Revitalize your soil
For superior plant growth
Cultivate sustainability
For a more sustainable future
Improve your yield
With the strength of earthworms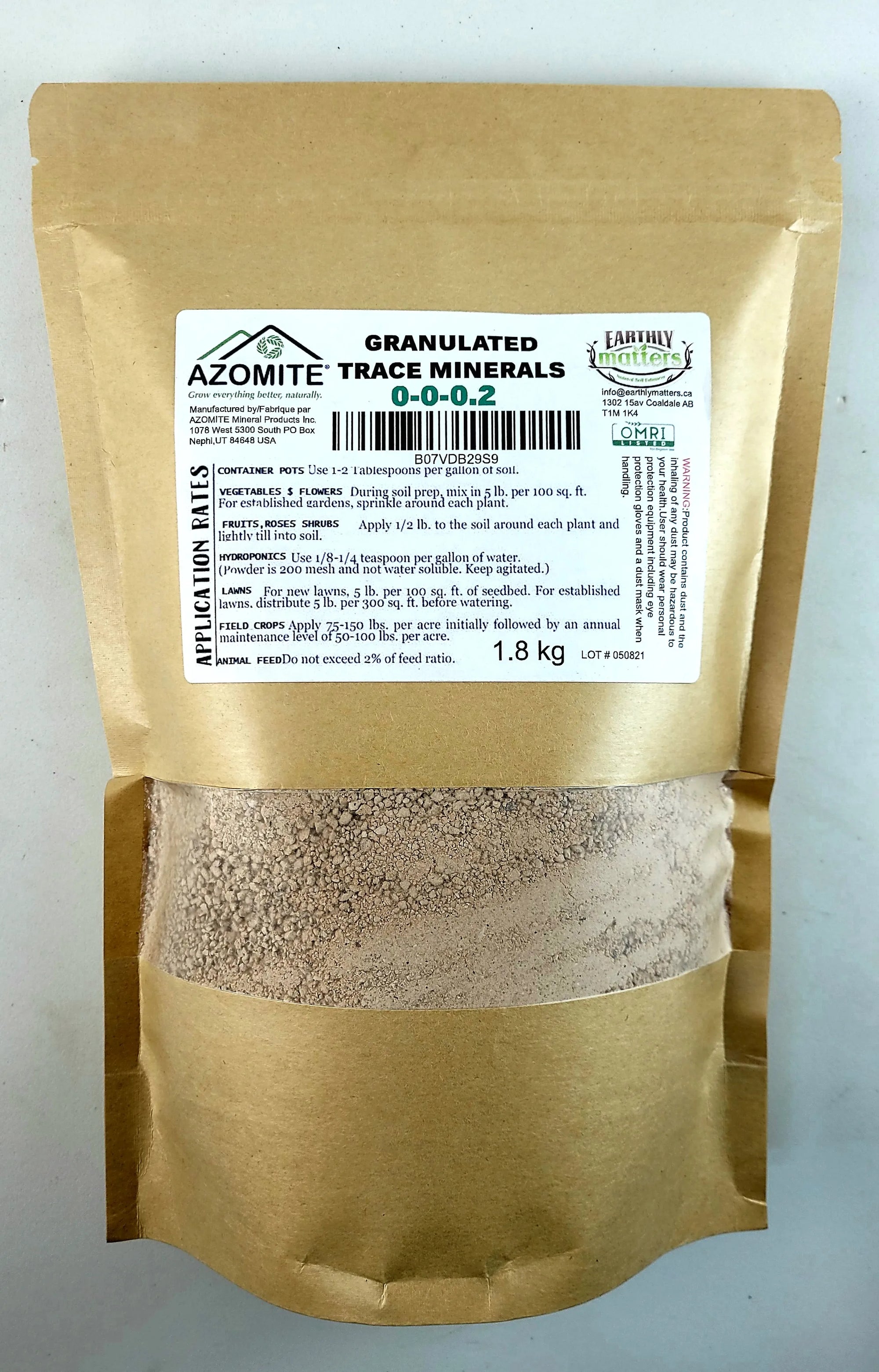 Regular price
Sale price
$18.00
Unit price
per
Azomite is mined from an ancient mineral deposit in Utah, distinct from any mineral deposit in the world it contains over 70 minerals and trace elements. Azomite is used to re-mineralize nutrient-depleted soils in a variety of applications from house plants to vegetable gardens.
Note: This product is not water soluble and requires agitation when used in irrigation, spray applications, etc.
Azomite 20 kg bags available. Please call for current pricing.
Read more
Read less
check_circle In Stock
cancel Sold out
Free Pick Up at Coaldale Industrial Sector — (1302 15 Ave, Coaldale)

Usually ready in 24 hours —
Secure checkout with
Key highlights

✔ Re-mineralizes nutrient depleted soils
✔ Certified organic
✔ OMRI listed
How to use

🥕 Vegetable & Flower Gardens:
Apply 200 gr per 9 square meters or 200 gr per 60 meters of linear row in a 15 cm wide band.

🌳 Trees, Fruit trees, Grape Vines, Ornamentals and Shrubs, etc.:
Add 225 gr to 450 gr. to the soil around each plant and lightly till or water/irrigate into the soil.

🏡 Lawns:
Apply 900-1300 gr per 92 square meters once a year in the Spring, Fall or Winter. This equals 9-13 kg/930 square meters

🌼 House Plants and Flowers:
Mix 1/2 teaspoon per 2.5 cm of pot diameter with potting soil before planting. Apply ½ to 1 teaspoon every three months to the soil surface of the soil and water in.

🌡 Greenhouse and Potting Soil:
Add 3-5 kg per 800 L of potting soil, and add to the irrigation water when possible, on a weekly basis, at a low rate.

🚮 Compost:
Add 2.5-4.5 kg per 45 kg of compost added at the beginning of the compost cycle.

💧 Hydroponics:
Add Azomite to the irrigation water assuring there is adequate agitation, screen and nozzle sizes, and foliar sprays, and potting soil, as per above rates.
What is vermiculture?

Vermiculture is the raising of earthworms for the production of earthworm castings.
What are earthworm castings?

Earthworm castings are the manure (excretion) of earthworms. They are completely odorless and packed full of nutrients for plants and microorganisms.
What are the benefits of using earthworm castings?

Enhance plant growth and vibrance.
Act as a natural fertilizer or plant food
Slow release essential nutrients into the soil
Strengthen plant roots
Aid in moisture retention and aeration
Odorless and Non Toxic
Safe to use on all indoor and outdoor plants
What can I use earthworm castings on?

They can be used on any outdoor and indoor plants. Castings can be worked into the soil anytime you plant. Don't worry you can never use too many castings. They won't ever burn your lawn or plants like chemical fertilizers may. After initially mixing castings into your soil try applying casting tea once a week for optimal growth and vibrancy. You will see the difference!